Learn about NovelVox's newest features and updates, all of which can help you deliver a better agent and customer experience.
Technology drives better experiences, but only when presented in the right proportions. Too much of it exposes your agents to unnecessary screen toggling and silos. The solution is to empower them with a consolidated view of information that's optimized as per your unique organizational needs. This can help agents be more productive and focused.
Take a look at eight new features from NovelVox's CXInfinity and NovelVox Designer Studio releases that help you make the best of integrations.
What's New?
CXInfinity Omnichannel Connectors for MS Dynamics and ServiceNow
Introducing CXInfinity omnichannel connector interface for ServiceNow and MS Dynamics. Now, enable agents to leverage CXInfinity's powerful suite of digital engagement features from within the ServiceNow/ MS Dynamics screen.
Key highlights:
Embeds within ServiceNow/MS Dynamics environment to allow seamless handling of digital interactions without switching screens
Intuitive connector interface allowing agents to seamlessly access all CXInfinity-driven features, except CoBrowse and WebRTC
Provides options to toggle CXInfinity workspaces i.e., Supervisor, Reporting, InfiBot, etc
Configurable Out-of-office Templates in CXInfinity
Announcing custom shift scheduling feature in CXInfinity that allows you to configure Business Hours and Holiday schedules for agents. Administrators will now be able to set out-of-office messages for specific interaction queues, and further map these templates on different channels for custom business hours and holidays.
The feature allows you to:
Create and manage custom out of office message templates for different channels – email, chat, and social
Set custom and standard business hours for agents
Create and manage holiday schedule for specific date range and time zone
Map configured out-of-office message templates with business hours and holiday schedule
Options to configure shift scheduling based on queue skills (as part of CXInfinity Routing) or feed skills (as part of Cisco Task Routing).
Generate reports on the interactions received during out of business hours for Supervisors
Unique Board Identifiers in NovelVox Designer Studio
Confuse no more while identifying your board type. With all new unique identifiers( board icons), you will be able to identify a board type – agent desktop or wallboard – even when receiving boards from Administrators and other tenants.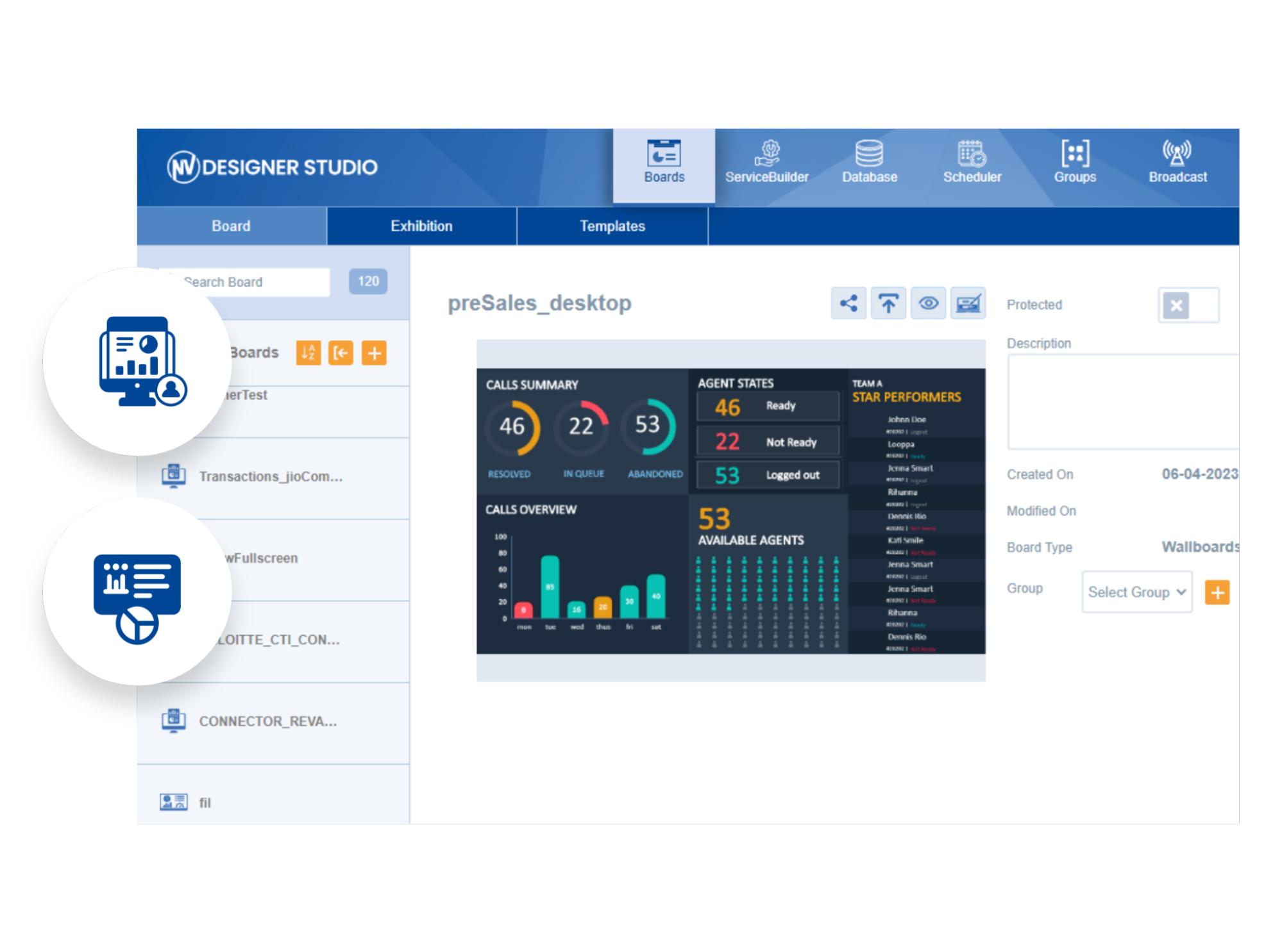 White Labeling in CXInfinity
Introduces options to use unique brand logos on the CXInfinity platform across pages and workspaces. With this release, administrators will have the flexibility to customize the CXInfinity platform with desired brand logos. By default, the platform will showcase the original CXInfinity logo. However, the administrator will have the option to replace this logo with the desired brand icon/logo under "Themes Settings".
Multi Factor Authentication for Tenants
Introduces OTP-based multi factor authentication on User Management module for enhanced security. While onboarding a new tenant, administrators can now configure multi factor authentication on the tenant level – making all the users of that specific tenant to undergo predefined authentication steps on a new browser, machine, or window. By default, the authentication remains active whenever the user logs into the application. However, the Tenant admin can anytime enable or disable multi factor authentication for successful logins as per the requirement.
Estimated Wait Time for Cisco Task Routing
New feature of displaying estimated wait times for email and chat interactions routed by Cisco Task Routing has been introduced. Admins will have the flexibility to enable/disable the EWT display while configuring display frequency in the range of 10 to 9999.
Preview Exhibitions for Unprotected Boards
Easily preview exhibitions for unprotected boards on various web browsers without requiring a password-protected authentication. However, for protected boards, the login screen will still appear when previewing board exhibitions.
Improved Search Functionality in the Designer
Dynamics search fields have been introduced to various designer pages to enable seamless search operations for admins and tenant users. Search option is now available on:
Board templates
Data value dropdown
Global manual events dropdown
Start today
All set to get started? Get in touch with NovelVox technical solution experts to uncover many more exciting features that help drive superior agent and customer experience.