Boost your contact center productivity and achieve more with integrated agent workspace for Genesys Contact Centers — Genesys Cloud, Genesys PureEngage, and Genesys PureConnect.
Deployments in 20+ Countries
Get a single integrated view of all the information on your Genesys Agent Desktop by seamlessly integrating it with your existing third-party applications. It merges data from all the applications & core systems and displays it on a single screen, providing agents complete access to the customer and product information.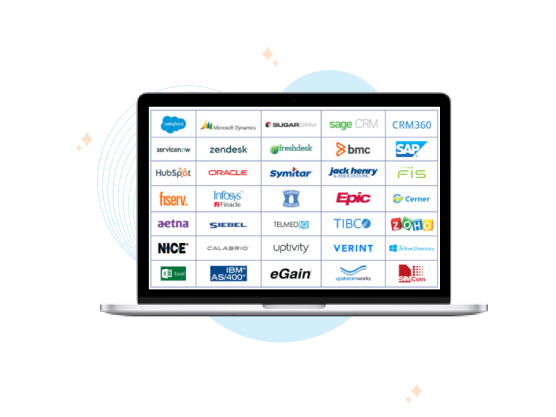 Biggest library of Integration with Genesys Contact Center
Integrate your Agent Desktop with the industry's leading third-party applications and improve the performance of your Genesys Contact Center. Choose from a library of 75+ CRM, Ticketing, EMR/EHR, Banking Applications, Legacy systems, and more applications. 
Genesys integration with some popular applications:
Let your agents know the caller even before the call is answered. Get the caller's details as soon as the call connects and greet the caller by name to deliver customer delight.
View Screen as per IVR Inputs
Genesys Agent Desktops help you deliver better call resolutions, enabling agents to take more calls in a day. It dynamically populates the relevant caller information as per the "Reason for the Call" to give the agents a head start.
Optimized Agent Desktops for your Business
Enhance your AHT, FCR, and overall productivity by choosing a customized Agent Desktop for your Genesys contact centers, specifically designed to cater to your industry-specific business needs.
Customize with Drag & Drop Designer
Modify/change workspace fields as per the requirement using easy to use, no-code Drag & Drop Designer Studio.
Our Featured Integrations