Boost your employee productivity and achieve more with Unified Agent Desktop for Avaya Contact Centers.
Deployments in 20+ Countries
Single Screen Customer View
Reduce Average Handling Time (AHT) and improve your First Call Resolution (FCR) rate by integrating Avaya contact center with all the third-party applications to offer unified view of customer information.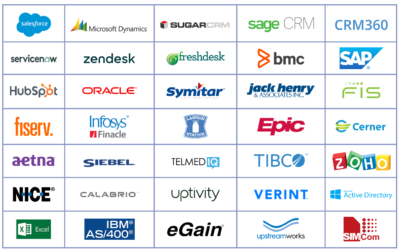 Biggest library of Integration
Boost agent performance by integrating your Avaya Agent Desktop with the industry's leading third-party applications having an open API. Choose from a library of 75+ CRM, Ticketing, EMR/EHR, Banking Applications, Legacy systems, and more applications. 
Avaya integration with some of the popular applications:
Say 'Hello' with Caller's First Name
Know who is calling even before you answer the call with key caller details to deliver personalized customer service. With Avaya Agent Desktop, let your agent validate the customer details effortlessly fetched at the time of customer inbound calls.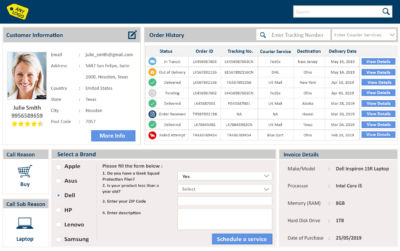 Change Screen by IVR Inputs
Deliver faster call resolution and improve FCR with Avaya Agent desktop. Dynamically populate relevant information for every call as per the IVR inputs.
Agent Desktop Optimized
to your Business
Why choose a standard agent desktop when you can get an Avaya Agent Desktop customized to your unique business needs?
Modify Desktop Easily with Drag & Drop Designer
Modify Avaya Agent Desktop easily with drag & drop designer studio. The industry's first and only Gadget Designer Studio makes it so easy that you can do it on your own—no coding required.
Our Featured Integrations