Stuart Scott once quoted, "In football, as in life, the hits you don't see coming are the ones that do the most damage."
It requires years of hard work and persistence to create a winning football team. Every season of football has notable cases of hits and misses. Playing a 90 minutes game, hearing hooting from the crowd builds a huge pressure on the team. Now, an aptly managed team defending all goals is just about to win. Then suddenly a deflected shot sweeps from a goal to an own goal. It is like a nightmare come true for the striker and the team. There are embarrassment and guilt etched on the faces of the whole team and not just a player. Resulting in losing an already won game. The months of practice and training have just gone in vain. And, a demotivated team can never make a win.
Similarly, this is the case with a contact center. From technologies to customer experience, any misses can damage your contact center reputation that has been built for years. A single blunder with the call solely points to the management. Here, are 8 things the contact center management team can correlate to and learn from Football.
1. Plan the goal
Football is all about scoring a goal. It requires the team to be well aware of the championship and how to play for it. Similarly, the contact center business needs to have a vision and the management is required to make every individual clear about it. Like football, this business is a team game where all agents should be well aware of their targets and pitch the customers in an informed manner for a consistent experience.
Well-planned targets help the management hire high-performing agents/players with a team-building attitude to stand united even during the toughest of times.
2. Team management
In a football team, every player has their position set on the field according to their skills. This is one of the most important responsibilities of the captain or coach to perform a SWOT analysis of the team, its opponents and finalize the placements. Similar team management is expected from the contact center management. You need to identify the skills, ability, and likeness of every agent to finalize the department and role they would be delivering during their tenure. This will help you in understanding who are the leaders or star performers in your team.
3. Accepting mistakes
It is not always about the trophy or winning; the game is about playing well, accepting the mistakes and staying positive. So, when you train your agents on attending the call, build confidence in them to accept the mistakes or apologies to callers whenever they are stuck. This makes agents feel light and grow the trust of customers in your service.
4. Leadership
It is a famous saying that 'great leaders don't tell you what to do. They show you how it's done. And this stands true for everyone. You need to act like a quarterback of your team and demonstrate the traits of a strong leader such as patience, communication, decisiveness, adaptability, consistency and more. You need to rely on your team and support them to perform their best. Have a one-on-one discussion with your team to understand their concerns and build trust in them. Delegate a defined task to your agents and make them the owner of the same. This will make them feel valued. Lead by example, stay well-informed about agent activities and take initiatives.
5. Adaptability and flexibility
Football requires a lot of strength, focus, and flexibility. Whether it is about weather conditions, a new game plan or new rules. The team needs to adapt to the same and start their game. Such challenging situations can come to your desk too. An agent might mess up a call, there could be unexpected absenteeism, an agent's burnout or more. You should be ready to play back by tackling the obstacles. See how you can bring in agents from other teams to balance the load. Or, work on the IVR script and introduce more communication mediums (such as chat and email) to distribute call volumes across channels.
6. Know the rule and the ball
You can neither be a good player nor a great coach without understanding the real crux of the game and being familiar with the ball. Every planning is done best after knowing the ground realities of the players, game, and the field. Similar is the case with the contact center. You need to be well aware of the Contact Center Solutions. From agent desktops to wallboards, you need to have good practical knowledge of everything to train your agents. Below is the checklist of what your agent desktop must have
A 360-degree unified view of customer information
Seamless integration with 3rd party applications
Industry-specific interface
Easy customization of interface with drag and drop features
Switch screen based on the IVR variables and more.
Agent desktop is the real strength of an agent. It needs to be user-friendly and equipped with all the features required by your agent.
7. Always stand behind the team
Great coaches motivate their team players and stand behind them even during the matches to keep them positive. Instead of shouting at them during a mess. Similarly, it is your responsibility to support your agents even when on a live call using a Supervisor Desktop. Also, there are various built-in gadgets available with agent desktops that can support them to make the best of calls and exceptional customer experience, such as
Knowledge Base Gadget– It is a repository of product and process information that helps agents in guiding customers during the call.

Agent Scripting Gadget – It is a series of Dynamic Guided Scripts that can be customized. It ensures adherence to compliance especially when a call is being handled by a new joiner.

Customer Management Gadget – This mini CRM tool displays the customer information even before the call is received by the agent to create a personalized customer experience.

Ticketing Gadget – This gadget simplifies the management of ticketing activities with SLA engine, multi-level assignment, reporting and more.
Other gadgets include inter-team communication, call disposition gadgets, etc.
8. Passion
Passion is the foundation of perseverance that makes great players different from general players. This motivates them to do their best. This passion is a must to be inculcated among your agents. They should eat and breathe the passion for creating a memorable customer experience. This will make them feel your business is like theirs and offer optimum performance.
So, next time when you watch a football match feel the passion and dedication it took for the team to be there and try to inculcate the same among your team members without making it a burden. Mange agents and form a cohesive team to win over customers' trust and competitors with updated technology and training.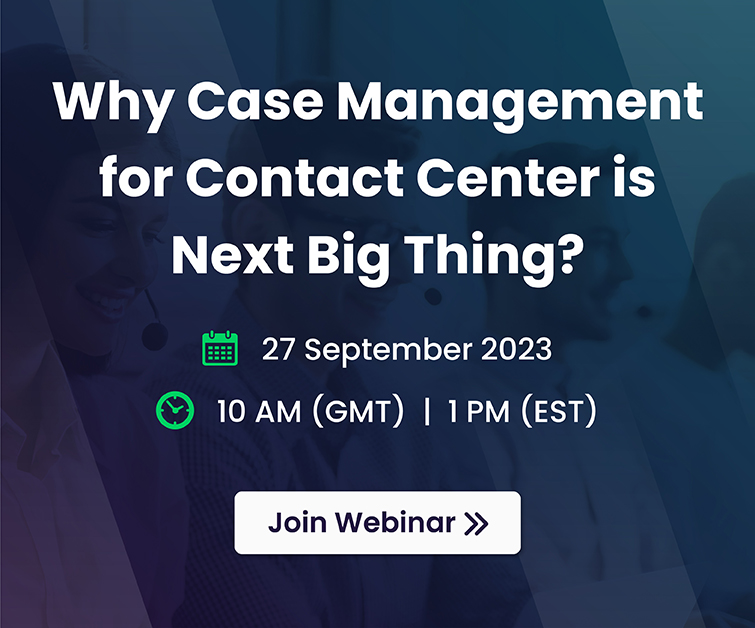 Subscribe to our free newsletter and get blog updates in your inbox