The sales team is the breadwinner for a company. Big or small, new or old, every business needs to work on converting prospects into customers and get higher revenue with an excellent reputation. It is not achieved in a day but requires continuous follow up of a defined roadmap with repeated steps.
Benefits of a defined sales process include:
Higher efficiency of agents and easier onboarding
Well organized processes for customers and in-house team
More conversions with higher revenue
Analysis of customer behaviour
Data segmentation
The 4P's will make you resolve:
1. Prospect:
Yes, leads are essential, but that does not mean you will rush approaching anyone on this earth. So, to save significant business time in converting prospects into customers and customer's time in finding the right business/solution, it is necessary to undergo prospecting. How to go about it?
Collect contact details – Manually doing this is time-consuming. Have contact center solution that offers integration with CRM and other applications to fetch customer-relevant information
Social media activities – Manually doing this is time-consuming. Have contact center solution that offers integration with CRM and other applications to fetch customer-relevant information
Collect leads – Reconnect with customers who visited your website or called in your customer support system or reacted to any of your emails for more information.
2. Pick Objections:
Once you are sorted with the list of prospects, it is time to better connect with them by understanding their issues or obstacles. If the prospects are unable to share concerns, your rep needs to ask them. A standard set of questions can ease the job. Even it helps in collecting relevant information through the conversation. Some tips for identifying obstacles
Open-ended questions to encourage prospect speak
Don't pitch a product in questions
Ask them about the fallbacks and goods about their earlier or existing service provider
Collect information related to what they expect
Listen carefully to what the person is saying
3. Pitch solution:
How well you pitch solution helps analyze how many prospects you can turn into customers. It is a wide term that has much more than discussing price and money. It should not be too quick for prospects to understand or too slow to leave the conversation. Things to consider
Pitch features and benefits of product/service corresponding to the prospect's obstacles
Highlight the USPs that appear as an added advantage for prospect
State the payment terms, clauses, warranty, and more
Share quotation and let them know if there's the scope of negotiation
Keep an eye on opportunities to cross-sell and up-sell.
4. Put to closure:
The final step in the sales process is closing the deal between customer and business. This step affects revenue. It defines how good or bad you have performed in the earlier steps. A lead is converted when there is a win-win situation for both customers and the business. In other words, when people a person or business finds your product or feature valuable, there is a purchase assured. Tips to go quick with closing
Share timeline or limited period offer
Emphasize how you are better for their business or from competitors
Add some offers that accelerate their purchase decision
This 4P process is a secure way to increase your sales. But to retain your customers over the years and grow customer base, post engagement is necessary. And, here's the other part of the story (what you need to do next)
Follow up – Nurture the relationship by delighting your customers' time and again. Approach them to remind themselves. Offer solutions they seek from your business time and also basis their purchase behavior. Share newsletters or communicate through WhatsApp and social media to stay connected. This makes them feel concerned and cared for.
Seek referrals and feedbacks – your customers are the best way to get more business with word-of-mouth marketing. Existing customers are the best source of referrals. Entice them with some offers in case of referrals. Also, ask them to share feedback if any. Act on the genuine comments and notify customers when you act upon them.
Technology by Cx Infinity that plays a significant role in improving the sales process:
1. Integrated solutions– contact center with seamless 3rd party application integration for a personalized experience
2. Omnichannel solution– Engage with customers across the channel to be there for prospects as a solution everywhere
3. Unified screen– Manage all channels and every communication from a single interface. Integrated WhatsApp, Facebook messenger, and more can be handled from the same place
5. Smart bots– AI-driven chatbots to engage with more prospects and offer quality resolutions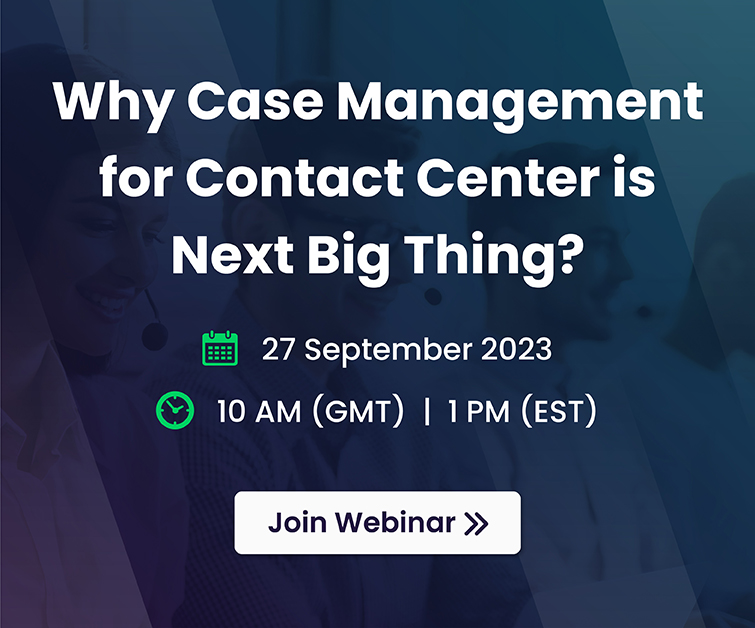 Subscribe to our free newsletter and get blog updates in your inbox