The one element that you absolutely need to improve CX efficiency is a personalization strategy. These days, most brands globally are chasing CX personalization on a granular scale. There are enormous opportunities today to introduce personalization and improve customer experience. Personalization is a strategic tool to enhance customer loyalty and retention.
There are ample cases where personalization is introduced for the sake of it. To let you out of such a loop, let's understand its importance for businesses along with the rising trends.
Why Personalization Matters?
We know, personalization can significantly reduce costs and shoot up revenue realization. How? By virtue of satisfied customers, more so in the face of the pandemic. It's a necessity today because customers are demanding it.
As per a report by Accenture, 33% customers left owing to lack of personalization in the business relationship
Prices and products have taken a lower preference among customers who demand personalization for any business relation to proceed.
83% customers are reportedly open to sharing their personal data for an enhanced personalization experience.
The concept of "lifelong conversations" is slowly seeping into business strategies, demanding a shift in the way customers are treated and interacted with.
91% customers surveyed are more likely to indulge with brands that provides relevant offers and recommendations.
How can personalization ensure growth for your business?
Personalization is the key to stellar customer experience and has got 93% companies devoting their resources draft a suitable personalization strategy. It has indeed become competitive differentiator by influencing customers in their purchasing decisions and driving customer value in the long term. CX personalization helps in getting a holistic understanding of customer journeys, analyzing their behavior and catering to their demands in the best possible way.
Personalization empowers your agent with the right information to cater to customers queries efficiently. This makes the Average Call Handling time go down while substantially improving call resolution rates. The customer is further saved from the annoying task of repeating his requirements again and again. Shorter calls, meaning more resolved tickets and a satisfied customer.
Today personalization is discussed in the context of AI, ML and CRMs. Though, it's true that technology can be a powerful enabler for personalization but an improved customer experience is not always a result of cutting-edge technology.
Nothing can be more frustrating than an entirely scripted conversation with an agent that makes you feel unheard. This can put off customer trust in the brand and the business might be believed to not prioritize customers.
When customer queries are heard and resolved, it drives up brand loyalty and that's exactly what personalization intends to do.
Leverage customer information:
It's important to keep track of relevant customer information to deliver them the best of customer experience. CRMs are one way to do it. This enables organizations to leverage the well-organized information make purchase suggestions based on customer preferences. Also, the agents get a helping hand by virtue of this information to render the very best services to customers.
How to boost personalization?
Here are some ways to upgrade your personalization strategy
As per one report by Accenture, one-third of customers are likely to buy from a brand that makes them feel acknowledged and gives relevant recommendations
By understanding the multidimensional journey of customers, businesses can gain an edge to serve them better. Repetitive and tiresome long calls can make the customer back out.
With omnichannel businesses can easily tackle the overwhelming number of touchpoints in communications. They can prompt in responding to customer queries and deliver exactly what the customer needs. This doesn't happen on its own but is a result of collective strategies.
Today's customers don't want to sift through a heap of messages to get what they want. They want content tailored for their interests. If you can't provide that, they have ample options in the market. This underscores the need to understand your customers and cater to them with the right solutions.
Complete customer interaction history along with a real-time analysis can help your agents drive customers to their side.
Imagine a customer having to jump through hoops to make a purchase, this can be repeating their requirements several times or connecting with the wrong agent. Chances are the customer is not going to return for another purchase.
Customers should be able to interact quickly and efficiently and that too across all the touchpoints of communication. By breaking departmental silos and establishing a free flow of communication, customers can be attended to in a prompt manner.
Greet customers on a first name basis and save them from going through the tiresome process of filling in details that you already have. This also goes for integrating your CRM and contact center software.
58% customers are likely to buy from a site that offers recommendations based on previous purchases
A deep analysis of customers and their segmentation based on that analysis can go a long way in catering to customers the right way. This segmentation can help you immensely in building a library of content that can help in delivering customized user experience.
This can even help you set up campaigns and drive value across each and every touchpoint of communication.
The future of personalization:
The future of personalization is not simply a status quotist one but rather to up-level the current status quo. Herein, we discuss the three essential pillars for a better personalization strategy as we enter 2022.
Omnichannel communication:
Omnichannel strategies can help improve consistency, transparency and ease of navigation across channels. This would ensure a seamless customer experience for the entire customer journey. Also, a detailed and real-time view will allow agents to interact with customers in a more personalized manner.
Routine and repetitive transactions would be handled by self-service channels, and live agents would take on the critical job of providing customer care. AI, advanced analytics, NLP and other tools would be instrumental in detecting customer sentiment and guide agents in real-time.
A window of opportunity for CX leaders:
The future is here and personalization is very much a part of it. Implementing a personalization strategy demands some challenges to be tackled. These include,
-aligning organizational goals with the personalization strategy
-break organizational silos
Organizations should begin by understanding their customers better and determine the right strategy to serve customers in a more meaningful manner.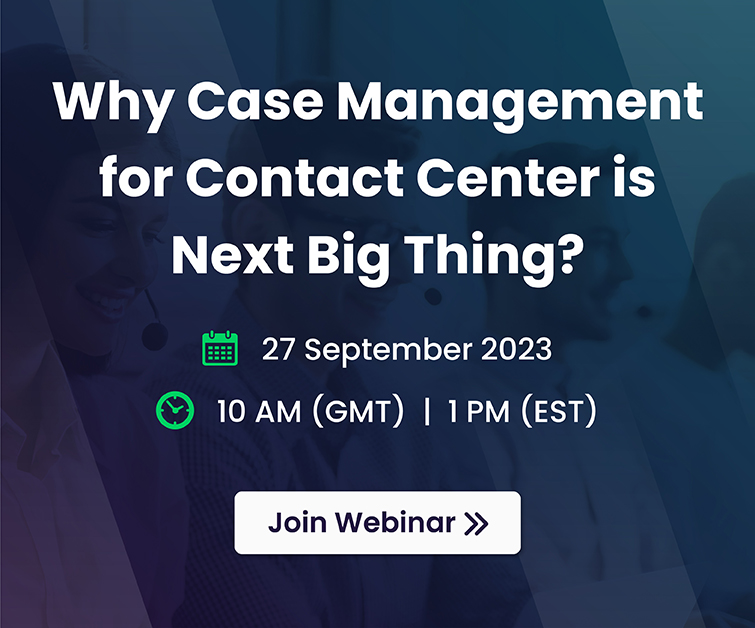 Subscribe to our free newsletter and get blog updates in your inbox