Supercharge Dialpad Performance Across
Banking, Insurance,
Credit Union & Healthcare
Improve customer journeys by elevating agent performance through unification, and industry-specific integrations for Dialpad Contact Center
Accelerate Business Growth with Improved Agent Experience
Personalized Customer Experience
Unified agent interface empowers agents to leverage the relevant data for contextual customer interactions.
Seamless Third-party Integrations
Unify your system effortlessly with over 75+ third-party integrations from the extensive library.
Amplified Agent Productivity
Get the most out of the agents with pre-built tools that help automate processes and tasks.
TURN YOUR DIALPAD INTO 'SPECIFIC INDUSTRY ORIENTED'
Industry-focused Dialpad Contact Center Solutions
With integrations like EPIC, Cerner, etc., agents are provided with crucial patient data to deliver superior customer experience.
Deliver smooth customer experience with personalized interaction by integrating with Fiserv, Symitar, etc., and drive loyalty with personalization.
Unlock unified customer view for agents with integrations like FIS, Infosys Finacle, and more.
Enable easy services with members along with unchallenging management of high call volumes with the integration of Jack Henry, Symitar, Fiserv, etc.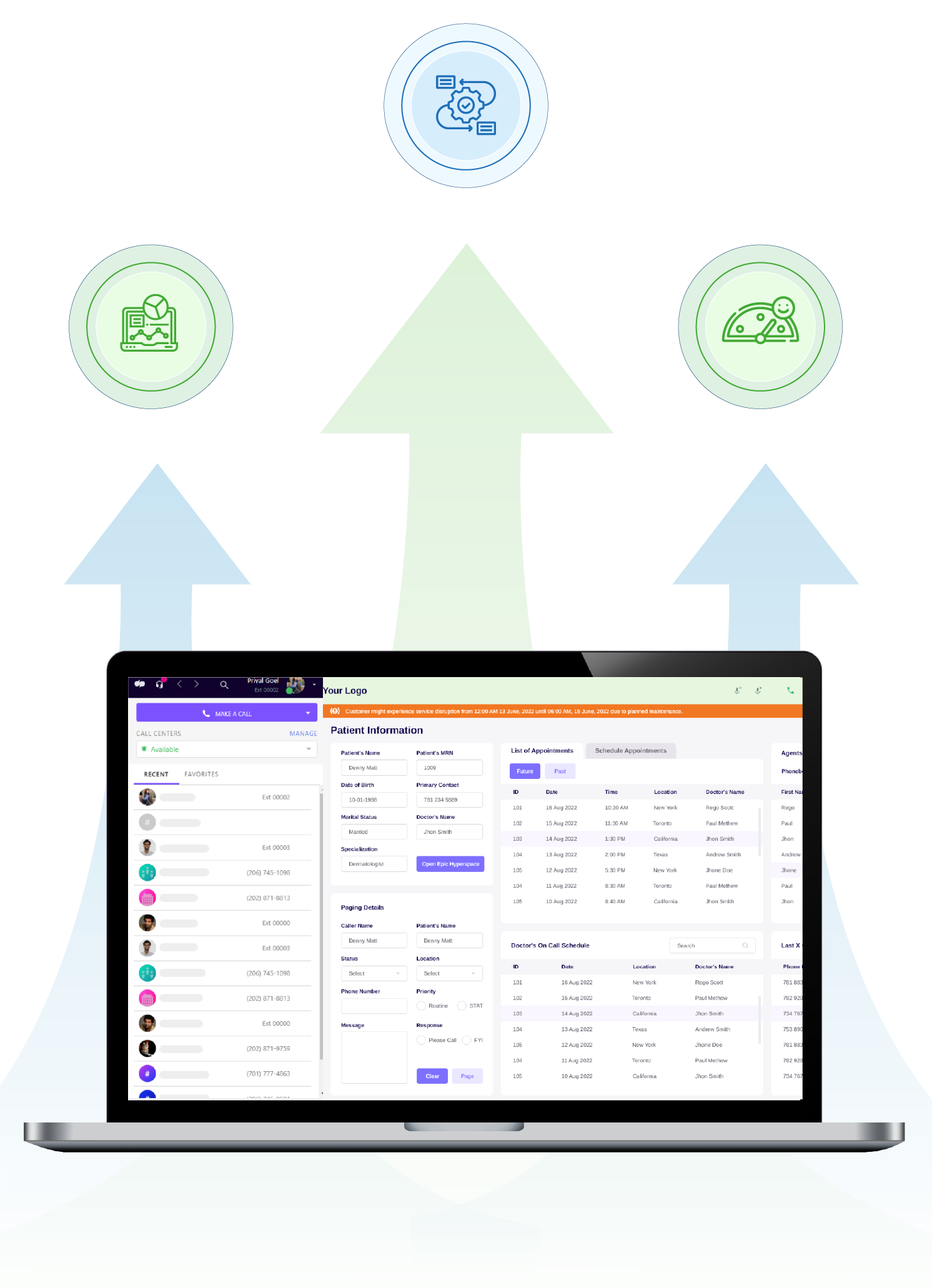 EQUIPPED AGENTS. SATISFIED CUSTOMER
Transform Agent Experience to Capture Business Growth
Unleash untapped agent productivity with unified workspace to deliver personalized customer experience for Dialpad Contact Center.
A unified desktop puts customer data into single view for agents, to spend less time switching the screens and more time solving customer queries, resulting in reduced Average Handle Time.
With automated actions in case of repetitive tasks, agents get to gauge the Upselling/Cross-selling possibilities.
Increased CSAT with Maximised Efficiency
Feature-rich solutions for Dialpad maximizes agent efficiency, resulting in increased customer satisfaction.
AGENT PRODUCTIVITY ADD-ONS
Pre-built Tools for Dialpad Contact Center Pave the Way for Increased Agent Efficiency
Pre-integrated knowledge base with our unified agent desktop enables seamless information access and sharing.
Personalized Agent Dashboards
Customize, Monitor, and Optimize agent performance with personalized dashboards for agents.
THIRD-PARTY INTEGRATIONS WITH DIALPAD
Integrate Dialpad with Third-party Applications
to Maximize Business Output
Integrate your Dialpad Contact Center with more than 75 third-party business applications including core industry apps to deliver unified customer experience. a unified agent experience, and quality customer service.
Equip agents with enhanced productivity tools, using built-in integrations for Dialpad.
Depending upon your needs, you can choose from flexible cloud, on-premise, and hybrid deployment to match up with the necessities.
Supports expansive business customizations to serve your industry -specific requirements.
Ensure quick ROI through instant integration with your business applications.
Agent desktop by NovelVox ensured better agent and customer experience. Its ability to easily customize and create gadgets as per our needs is truly amazing.
We no more need to worry about exposing all customer information from CRM and our internal data to agents. Agents now have access to only that information which they require for handling calls. We explored many solutions but NovelVox was the only one who delivered it. It's been working great so far.
NovelVox has helped us improve the overall agent-customer experience with not just the screen pop application, but also by building a desktop as per our specific requirements. It's exactly what we needed.
I research and found NovelVox to be the one support with the condo with the different applications from ServiceNow to Salesforce to Excel, so with the different applications with one product they are so flexible.
Ready to uplevel your customer experience and convert more leads?
Schedule a demo today to learn how you can close more sales, retain more customers and get more referrals